I actually posted this on my teaching blog last week, but I've played with it so much this past week that I thought I'd share it here, too!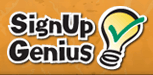 I was passed this little gem today as the school I'm in is gearing up for parent conferences. It's usually a hassle, some added clerical work organizing times and people, then putting the samples and information together to get the most out of the conference. Basically, you're taking your 30 minute break and putting on your secretary hat. It's either that or you're there until 5 after school doing it.
This site is going to change that for those of you in schools where parents have smart phones and internet access at home. Ladies and gentlemen, let me introduce: SignUpGenius.com.
This little .com will let you set up a signup for anything, even organizing volunteers or pot luck suppers!! You plug in the times and dates, set up how many slots you want for each one, then send out the link! Parents pick the one that fits their schedule and sign up online! It's like having your own secretary taking messages and setting up your schedule for you! If it brought me hot tea, it would be perfect!!
Or, in the case of needing supplies or food, you just plug in what you want people to bring and send out the link! Folks sign up for what they want to cook and BOOM! Pot luck dinner success!
AND IT'S FREE!!!
There are a million uses for this fabulous site! Sign up today and give it a try!